Street food is always delicious and worth savouring. The streets of Pune are filled with Pani Puri, Vada Pav, Misal Pav to Matki Bhel. But, the pandemic has affected the street food vendors across India. From Delhi's Baba Da Dhaba, Kerala's Parvathy Amma to Faridabad's Chhanga Lal Baba, have received huge help from social media. Here is an elderly couple in Pune who are selling Matki Bhel are also reviving their business.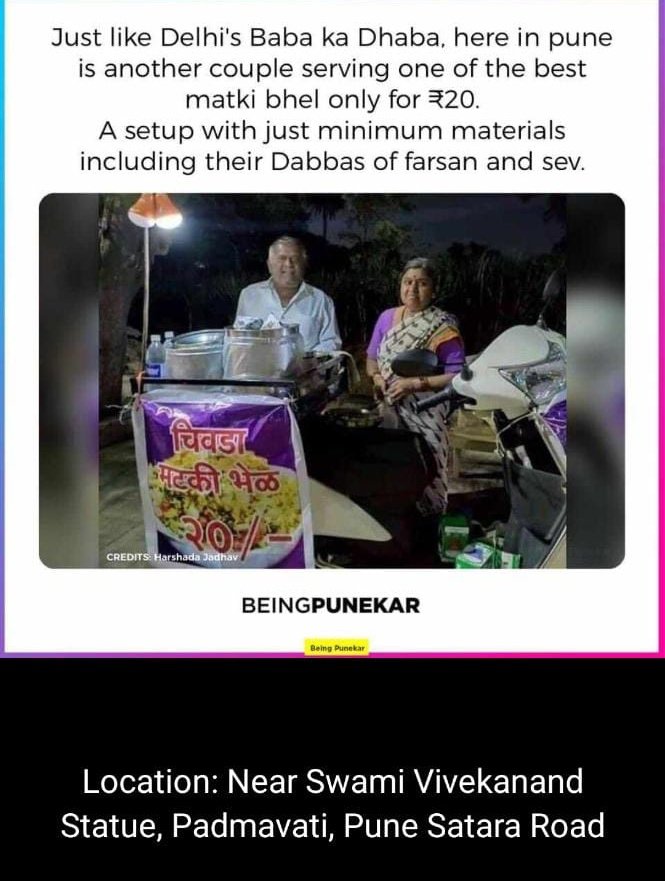 The elderly Pune couple who are selling Chivda Matki Bhel for ₹20 on Satara Road asked help through social media. This is in order to revive their business from losses. On October 14, a Twitter user, Yogesh Kulkarni tweeted a photo of the couple selling matki bhel. He captioned "Just like Delhi's Baba ka Dhaba, here is another couple serving one of the best matki bhel only for ₹20. A setup with just minimum materials including their dabbas of farsan and sev."
Their story and took the internet by storm. People commented, liked and shared their photo. Many people visited the stall and savoured their bhel. There are many ways to help them out of the losses. You can spread awareness via social media and also visit the stalls and have their delicious products.
For more food updates, visit FJK.city.